Summer holidays: the perfect chance to visit South Australia for an amazing travel experience
Infinitely likeable, Australia southernmost capital meshes red-blooded colonial history with a new-found taste for fine arts and festivals. Underpinned by farm-to-fork provedores, seafood that leaps onto your plate and an explosion of culinary talent, the city's dining scene is encapsulated by brasserie-style Lucinda and, within cooee at New Norfolk, The Agrarian Kitchen Eatery. There's also that sparkling setting – sea on one side and a green mountain on the other – that hints at the wild glories lying on its doorstep. Next to the famous MONA gallery-museum, saturate body and soul at the quirky MONA Pavilions, eight apartment-style enclaves of downright gorgeousness.
Quick getaway South of Hobart, the Huon Valley is one of Tasmania's quiet miracles, a patchwork of apple orchards, forests and vineyards infiltrated by the broad estuary of the Huon River. Highlights include the artsy village of Cygnet, the restaurant at Home Hill Winery and the seal colonies, wilderness and terrestrial wildlife of Bruny Island.
CANBERRA
Gastronomy? Check. Culture? Check. Fresh air and fun? Check. User-friendly? Check. If you're looking for a destination that wraps up all the good bits in one tight package, our national capital delivers in spades. The National Gallery and the National Portrait Gallery celebrate our cultural highs, while the National Museum of Australia holds a mirror to our collective achievements. Time for exercise? Hire a bike and take a spin around Lake Burley Griffin or stroll through the greenery in the Australian National Botanic Gardens. Canberra's culinary stars shine bright, with edgy fine dining at Aubergine, Asian fusion at XO and, in Bar Rochford, good vibes, humdinger cocktails and a grazing menu that draws its inspiration from the gastronomic globe.
Quick getaway Due north of Canberra, Murrumbateman has emerged as a small but esteemed cool-climate wine region, with around 20 wineries turning out finely crafted rieslings and shirazes, with Clonakilla, Murrumbateman Winery and Helm among the standard bearers. And there's gutsy Mediterranean food at Olleyville at Shaw Vineyard Estate and smokehouse-based dining in a glorious setting at Poachers Pantry.
DARWIN
Darwin's quirky, charismatic style puts it in a league of its own. On the edge of its harbour, Deckchair Cinema screens past and present hits nightly from mid-April to mid-November, accompanied by a finger-licking feast of Asian flavours served from food stalls. George Brown Darwin Botanic Gardens is a 42-hectare horticultural wonderland of tropical orchids, boabs, rainforest species and bush foods and medicinal plants. The Northern Territory was the wellspring for the Aboriginal art renaissance and Darwin is one of the best places to shop for Indigenous artworks.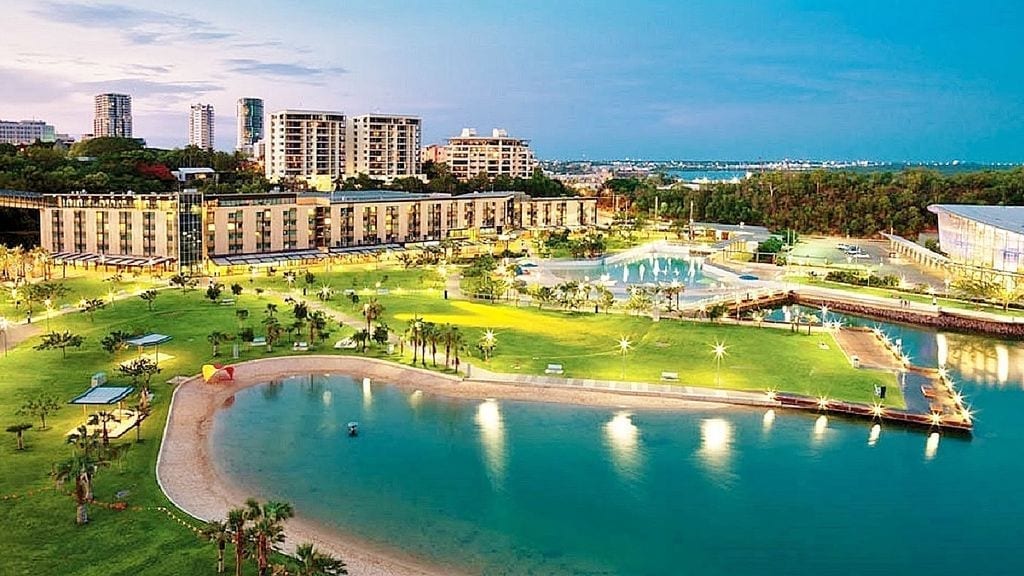 Quick getaway Located 120 kilometres from Darwin, Litchfield National Park is 1300 square kilometres of monsoonal rainforests, rivers and black-soil plains dotted with soaring termite mounds. The park's main attraction is the waterfall that cascades from the sandstone plateau of the Tabletop Range, creating rock-lined swimming holes. A four-wheel drive is required to reach some of the more inaccessible areas such as the bizarre sandstone pillars of the Lost City.
ADELAIDE
Likeable and liveable, South Australia's capital is the quiet achiever. Ringed by parklands and bracketed by some of our most illustrious wine regions, the city has one of the world's greatest music festivals in WOMADelaide. Joining it in the city's cultural calendar is the Adelaide Festival, which encompasses the iconic Adelaide Writers' Week and the Adelaide Fringe. There's also a feisty laneway bar and dining scene, a thriving craft-beer subculture, and Central Market is the original template for farmers' markets around the country.
Quick getaway Drive south of Adelaide and in no time you're cruising through the rolling hills of McLaren Vale, home to a clutch of esteemed wine labels including Haselgrove, d'Arenberg and Primo Estate. There's also a fabulous local food scene, with artisanal bakeries, cafes, chocolate and cheese makers and Willunga Farmers Market every Saturday. Dining? Try the legendary Salopian Inn, seaside beauty Star of Greece, and local hero Russell's Pizza. Throw in beaches and boutique accommodation and you've got all you need for a perfect short break.
BRISBANE
Wrapped around the lazy curves of the Brisbane River, embellished with thrusting office towers and glistening apartment blocks that cast a mirror image across the water, the Queensland capital is also a city of grace and charm with a subtropical climate. Drink it all in with a late-afternoon cruise aboard a CityCat ferry, then go to the heritage-listed Howard Smith Wharves, the buzzy riverside bar and restaurant complex where Brisbane indulges its taste for the good life. The city is the gateway to some of our favourite holiday destinations, with the Gold Coast to the south and Sunshine Coast, with its chilled manners and picture-perfect hinterland villages, to the north.
Quick getaway Just off the coast from the city, the wildflower heaths, clear-water creeks and lagoons of North Stradbroke Island make for a favourite escape. Dolphins sometimes surf the waves at Point Lookout, and turtles and manta rays can often be spotted from the Gorge Walk.
MELBOURNE
Serene, elegant, spacious and gracious, Melbourne has a European flavour that makes it special. Set against a rich architectural legacy crafted in the lavish Victorian style, the city relishes its reputation for creative dining, whether it's fine diners or chic laneway cafes. South Yarra is where the young, the beautiful and the rich come to press their noses against the boutique windows and graze the cafes. St Kilda, the beachside belle, has wandered from the heights of fashion to disrepute and is now back in vogue again, while edgy Fitzroy – a haven for the streetwise, the fashionable and the curious – crackles with creative energy.
Quick getaway Mount Macedon – founded by wealthy Melburnians who created summer retreats with lush, cool-climate gardens, rambling paths and sweeping lawns – is a study in quaintness. Today, those mature gardens combine with its stately homes for a true-Brit sense of country life. Within an easy drive, Daylesford and Hepburn Springs chime in with their own high-quality lifestyle components, including a thriving locavore food scene and the most alluring natural-spring spa complex in the country.
SYDNEY
Wrapped around one of the world's greatest harbours, Sydney serves its natural wonders with an impressive array of worldly accomplishments, including a dynamic fusion-food scene spawned from the city's rich cultural mix. Stroll through the Royal Botanic Garden following the horseshoe curve of Farm Cove for classic views of the Sydney Opera House and the Harbour Bridge. Catch the ferry to Watsons Bay and bring your bathers for a dip at Camp Cove. Hit the golden grains of Bondi Beach, where nobody is ever too tanned, too thin or too inked, then stroll the Bondi to Coogee coastal trail. Take in the diverse dining scene and tattoo culture along Newtown's King Street and Enmore Road.
Quick getaway Barely an hour out of Sydney, Bowral is the style centre of the Southern Highlands. A tree-planting program that began over a century ago shows in the town's sublime avenues of mature deciduous trees and public and private gardens, boosted by sharp winters. Bowral gives you plenty of reasons to linger, from golf to winery tastings, farmers' markets and wilderness walks in the surrounding national parks.