Hobart – Hobart Walking Tours, History People & Places
Price From
SOLO
You get your own room/cabin by paying a single supplement charge in addition to the tour price.
Overview
Fascinating walking tour of Hobart's waterfront including historic Hunter St, significant city locations & the famous Salamanca Place. Beautiful historical buildings and wonderful stories about the hard working convicts, explorers, entrepreneurs, villains and heroes of this convict-built city.
Itinerary
Hobart's waterfront was where it all started for Europeans in Tasmania. This 2 hour walking tour follows the waterfront from the historic Henry Jones IXL jam factory to Australia's only Georgian corner, and on to beautiful Salamanca, taking in the wonders of a convict-built city, with well-preserved Georgian and Victorian architecture. You'll cover the story of the birth of a new British colony, and the growth of a lovely city, recalling the good, the bad and the scandalous characters that set the tone for the early days of Hobart. See and hear about stories of endurance, business empires, tycoons, adventurers, convicts, women, mothers, villains and heroes. Discover the marvellous legacy left by the resilience of our convict and free-settler ancestors.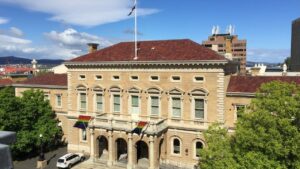 Dates & Prices
Please select your desired travel date below and submit.
Fine Print

Step 1
Select tour packages as preferred

Step 2
Complete the Booking Form

Step 3
We will contact you within 12 hours