6 must-try local dishes in Nha Trang
Nha Trang not only is "the heaven of relaxing" for the refreshment on endless white sand beaches and emerald waters but also gains its reputation as a food hub in the South-Central Coast of Vietnam. Thanks to its marine treasures, of course, Nha Trang's seafood is legendary, but this beachy & party city has much more to offer foodies than lobsters or king crabs. Be ready to satisfy your taste buds with the best local food in the city.
Seafood feast
Old but gold, big fans of seafood would definitely fall in love with this beach city thanks to its variety of seafood-based dishes. Being caught freshly every morning by locals, shrimps, fish and other shell species are a real delight to many foreign visitors. Nha Trang is chock-full of seafood eateries that are set along sandy white beaches. Supplied by local fishing villages, you'll find a variety of giant prawns, squid, urchins, crabs, jellyfish, and shellfish of all shapes and sizes. In these local restaurants, seafood is priced by weight. Point to the catch what you crave from the live display swimming in buckets or chilling on ice. Once the price is confirmed, you can have it steamed, barbecued, fried, or prepared in a hotpot.
The best way to spend the evening in Nha Trang with a group of friends is feasting on the freshest possible seafood and let the ocean breezes set the mood. For a great experience, head to the seafood restaurants in the north of the Tran Phu bridge, on Thap Ba Street or Pham Van Dong Street.
Where to eat:
Lang Chai Hai San Dai Duong Restaurant – 10 Pham Van Dong Street, Nha Trang City
Chieu Anh Restaurant- 86 Tran Phu Street, Nha Trang City
Thanh Suong Restaurant – 21 Tran Phu Street, Nha Trang City
Banh Can (Rice Flour Mini Pancakes)
A food tour in Nha Trang should always start with some pairs of "banh can". This tasty kind of rice flour mini pancake is made in a round shape filled with egg, onion, shrimp, and also fresh squid inside. Then, these little cakes are baked in special terracotta molds under the scorching heat.
"Banh can" is often eaten with shredded green mango, raw vegetables, and pork meatballs. All will be dipped into spicy fish sauce topped with garlic, chili, and lime.
Where to eat:
Banh Can Binh Dan – 19 Le Thanh Ton Street, Nha Trang City
Banh Can – 48 Hoang Hoa Tham Street, Nha Trang City
Banh Can – 151 Hoang Van Thu Street, Nha Trang City
Bun Ca Nha Trang (Nha Trang Rice Vermicelli With Grilled Fish)
A signature dish contributing to enrich Nha Trang cuisine is Bun Ca. Being the favorite pick of many locals, this special rice vermicelli with grilled fish also makes any visitors mouth-watering. You will find an array of stalls serving this dish on major streets of Nha Trang City. A bowl of "Bun ca " Nha Trang is made from various home-grown ingredients including rice vermicelli in the light sweet, tasty broth of fish, tomato, onion, pineapple, and filled with crispy grilled fish on top. Bean sprouts, other kinds of vegetables, and fish sauce are also accompanied to create a perfect grilled fish vermicelli.
Where to eat:
Bun Ca Co Ba: 123 Yersin Street, Nha Trang City
170 Bach Dang Street, Nha Trang City
5A Phan Chu Trinh, Nha Trang City
Nem Ninh Hoa (Ninh Hoa Grilled Pork Roll)
The name Ninh Hoa grilled pork roll is derived from Ninh Hoa Town, its origin. This specialty mainly comprises lean pork and pork skin grilled on charcoal. The meat is added with spices including sugar, garlic, pepper, salt, and so on. Therefore, it is fat and sweet.
A plate of Ninh Hoa grilled pork rolls has some indispensable ingredients such as grilled meat roll, lettuce, fresh herbs, sliced cucumber, star fruit, and mango. All are wrapped in a spring roll and dipped in the sauce.
Where to eat:
16A Lan Ong Street & 2-4 Phan Boi Chau Street, Nha Trang City
29-31 Le Loi Street, Nha Trang City
59 Le Thanh Phuong Street, Nha Trang City
Banh Xeo Muc (Nha Trang Squid Pancake)
"Banh xeo muc" or squid pancake win tourists' hearts for its delicious flavor. Similar to other kinds of crispy pancakes, squid pancake is folded in half. Yet apart from being filled with shrimps and green bean sprouts, the highlight of this quid pancake is fresh squid.
Sampling a piece of squid cake with raw vegetables and sour & spicy fish sauce creates a bold unforgettable flavor.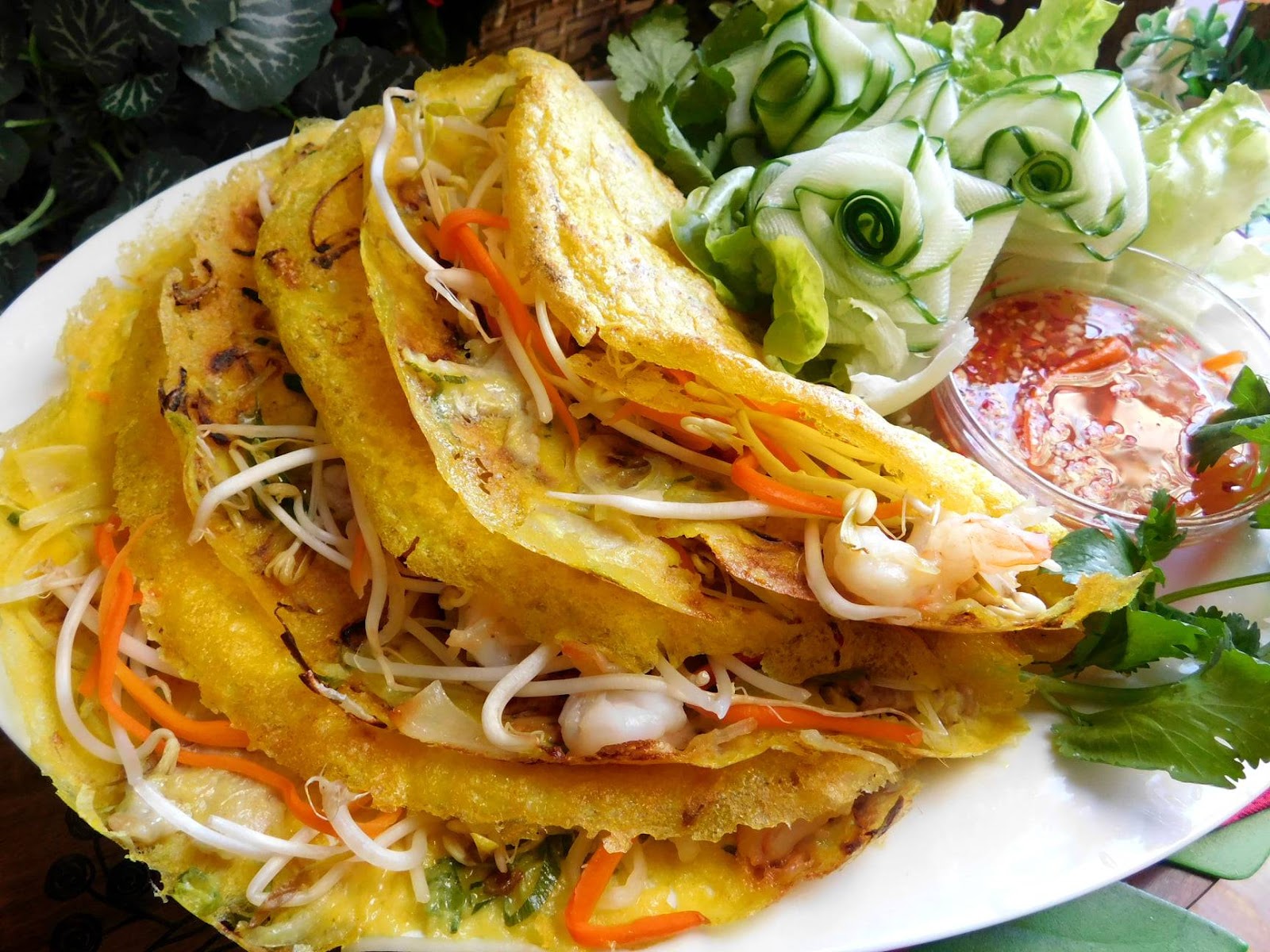 Where to eat:
85 To Hien Thanh Street, Nha Trang City
6 Thap Ba Street, Nha Trang City
18 Le Quy Don Street, Nha Trang City
Bun Muc (Nha Trang Vermicelli with Jellyfish)
Nha Trang vermicelli with Jellyfish is a must-try dish to round off the list. It brings the authentic taste of the sea and helps to cool down the inner body heat especially during summer. Jellyfish that are used in the specialty must be thick and small, just the size of a thumbnail. Besides, to create a natural light sweet broth, chefs will add mackerel and barracuda slow cooked.
A steaming hot bowl of tasty jellyfish vermicelli will include jellyfish, fish balls, and spring onions flooded in the broth.
Where to eat:
24 Han Thuyen Street, Nha Trang City
123 Ngo Gia Tu Street, Nha Trang City
8 Cu Chi Street, Nha Trang City